Wilmington on DVDs: Classic, Box Set. David Lean Directs Noel Coward (In Which We Serve; This Happy Breed; Blithe Spirit; Brief Encounter)
DAVID LEAN DIRECTS NOEL COWARD (Also Blu-ray) Four Stars
U.K.: David Lean/Noel Coward, 1942-45 (Criterion Collection)
"Mad dogs and Englishmen go out in the midday sun."
— Noel Coward
"I like a good yarn, I suppose."
— David Lean
1. Comrades in Arms
     David Lean, the director of Lawrence of Arabia and Noel Coward, the playwright/star of "Private Lives," weren't exactly kindred spirits. Lean was a movie master craftsman and heterosexual romantic whom Rex Harrison once claimed had "no sense of humor." Coward was a gay showman, theatrical prodigy and international social lion whose wit was world-famous. Lean sometimes seemed superficially repressed due to a strict religious upbringing; Coward had few, if any, inhibitions. But for four years during World War 2, they combined for what became an extraordinary cinematic marriage, a union of opposites that produced two masterpieces (In Which We Serve and Brief Encounter) and two other permanent classics (This Happy Breed and Blithe Spirit).
Taken as a unit, an oeuvre, these four Coward-Lean films — which portray, respectively, English naval fighters on a doomed warship during WW2, a typical if often beleaguered British middle class family and their lives between the wars, an unhappy, ghostly, sometimes hilarious marriage among the rich at a haunted country manor, and an unhappy (but passionately alive) love affair between a doctor and a housewife, who meet, oh so briefly, in a London train station — comprise the rich legacy of the most remarkable British film writer-director collaboration during the war years, except, of course, for one other: the magical cinematic union of those two other temperamental opposites, Michael Powell and Emeric Pressburger.
Indeed, the artistic careers of Coward and Lean — Coward's domination of the British stage as playwright-actor-singer-songwriter in the  '20s and '30s, up to his still sparkling old age as raconteur, lordly stage and movie actor and grand old showman (a trouper who never lost his talent to amuse), and Lean's progression from Britain's best film editor to her most masterly film director and greatest of epic filmmakers — spanned so many years without each other, that most movie lovers probably don't think of them as a team at all, something Lean sometimes tended to encourage, at least in the snippets of remembrance preserved in the splendid Criterion box set of all their joint work.
2. In Which We Serve
It was Coward who initiated the meeting of minds. Anxious to aid the war effort, he asked for some highly talented movie industry youngsters to help him out with the cinema side of a big, spectacular, spirit-raising World War II military drama he wanted to make — inspired by his friend Lord Mountbatten (whose beret Coward wears during the film) and in lieu of actual military duty, which another of Coward's friends Winston Churchill suggested would be a waste of his talents. Three filmmakers were suggested (by Carol Reed among others) to Coward: producer/caster Anthony Havelock-Allen (who had made The Lambeth Walk), cinematographer Ronald Neame, who had worked on the 1938 and 1941 film adaptations of George Bernard Shaw's plays Pygmalion and Major Barbara for the eccentric producer-director Gabriel Pascal, and director-editor Lean, who had co-directed Major Barbara (and gotten short-shrifted in the credits by Pascal), after establishing himself in the '30s as Britain's top film editor (working, among others, for Powell and Pressburger). The trio answered Coward's call and they all later, in 1944, formed a little company called Cineguild. Coward got on with them so well that he called them his "little darlings," though in the case of the Quaker-raised Lean, whose strict father had forbidden even movie attendance, that might have been a touch over-familiar.
Coward wrote the script for the film that became the 1942 In Which We Serve, based on the wartime experiences of Mountbatten, and set on a WW2 destroyer called The Torrin. The Torrin is sunk by the Germans early on in the film, and its cross-section crew and dauntless leader (Captain "D" Kinross, played by Coward), who are seen through much of the film clinging or floating on a life-boat, recall (in flashback) their coming together, the home-life they left and the ship's service — until, eventually, they bid their goodbyes to the Torrin and to each other. It is probably the usually urbane and subtle Coward's most emotional performance, and he intended it to be. It's also a film that includes marvelous acting by John Mills as the brave seaman Shorty Blake, by Bernard Mills as the stolidly dependable chief petty office Walter Hardy, by Kay Walsh and Joyce Carey among the woman left behind, the luminous Celia Johnson as Mrs. Kinross, and most memorably, in the role that made his career, the teenaged Richard Attenborough as a hysterical, cowardly young stoker, who disgraces and then tries to redeem himself.
3. This Happy Breed
In Which We Serve was a huge popular and critical success. Coward, who is listed in the credits as the film's producer, writer, and co-director (with Lean), won an honorary Oscar for it, and was also hailed as having pulled an "Orson Welles" — ironically, since master editor Lean, had insisted that Coward watch Citizen Kane to learn how to handle the flashback structure of his initially unwieldly script. But, so enamored was Coward of the jobs his junior partners had done, he insisted that they all rejoin, this time for Cineguild, for another project, an adaptation of his play "This Happy Breed: — a family chronicle, with the action spread over two decades, which attempted to do for the British working class, what his stage hit (and Oscar-winning film) Cavalcade had done for the upper classes. Coward even acceded, unhappily, to Lean's insistence that he forego playing his own stage role as the family's rough-hewn patriarch Frank Gibbons, because Lean felt Coward would never be accepted by movie audiences in a working class role. (Both Coward and Lean themselves came from middle-class backgrounds.) The part of Gibbons was given instead to Robert Newton, who had to pledge abstinence from the sauce for the shoot, a wagon the obstreperous Newton eventually and inevitably fell off.
The rest of the Gibbons family and neighbors — mostly seen in the Gibbons house, which becomes virtually another character — included Celia Johnson as Frank's tight-laced but deeply maternal wife Ethel, Kay Walsh (one of Lean's six wives) as prodigal daughter Queenie, Alison Legatt (crazy Aunt Sylvia), John Blythe (Reg) and Eileen Erskine (Vi) as other Gibbonses, Stanley Holloway (later the irrepressible Alfred Doolittle of "My Fair Lady"), as their cheerily steadfast next-door bloke Bob Mitchell, and John Mills as Queenie's faithful, persistent, oft-spurned suitor Billy Mitchell, whom we root for. The film is told in episodes, playlets really, that flip past like photos in an album. It's a tear-jerker done without obvious tear-jerking, and, in the end, as Neame's camera says goodbye to the Gibbons home, soon to be deserted, the movie becomes a moving tribute to the generation, strong of limb and stout of heart, that could survive the Kaiser's attacks and Hitler's blitz, and whose young would feed the appetite of the second war and win it with Churchill's "blood, toil, tears and sweat" — win a war that we don't see, though in the world and city outside the theaters where the play or movie ran, bombs dropped and fires were started.
4. Blithe Spirit
     The next Cineguild film, now with the Little Darlings and Lean firmly in control, was based on the biggest stage hit of Coward's estimable playwriting career — "Blithe Spirit," a ghostly, Topperish comedy about a witty, cultivated but somewhat nervous writer named Charles Condomine (a Coward sort of role played on stage by that perfect stuffy Britisher Cecil Parker, and in the films by "Sexy Rexy" Harrison). Charles discovers , after a séance held by the inimitable spiritualist and spook detector Madame Arcati (inimitably Margaret Rutherford), that his country manor is haunted by the mischievous but bored-looking ghost of his first wife Elvira (Kay Hammond) to the consternation and annoyance of his more proper second spouse Ruth (Constance Cummings). The play was the biggest London commercial hit of the war years, but when Coward first saw the film they made from it, he was dismayed. "My dear," he told Lean, "You've just fucked up the best thing I ever wrote."
     That's too harsh, of course. The movie Blithe Spirit amused audiences, though perhaps not as unfailingly as the stage version had, and it continues to amuse them to this day — particularly when Miss Rutherford commandeers the film as bumptious, bike-riding Madame Arcati and pounds out laughs with all the lusty vigor of a hearty masseuse, pummeling our bodies (and our wits)  into shape. It's a classic comedy performance — and the rest of the actors are not bad at all, though not on the Arcati level — and the movie, shot once again by Neame, looks great in color. It's still a pretty good comedy for a director with no sense of humor. I laughed. And not only when Madame Rutherford was on screen.
5. Brief Encounter
     Now comes the end of the partnership and it's a glorious one: that nonpareil heartbreaker Brief Encounter — an immortal romance that has perhaps not always gotten its due past the '60s, because younger audiences, coming after the Sexual Revolution, may find it absurd to try to identify with a would-be adulterous couple — Celia Johnson's Laura Jesson and Trevor Howard's Dr. Alec Harvey — who don't sleep with each other and don't consummate, out of circumstance and out of shame. Well but…That's the way things once were, especially on screen.
The story is classically simple. Laura and Alec are saying goodbye at night in a lightly populated train station on the London-to-suburban run, when they are interrupted by a busybody friend of Laura's. Alec beats a discreet retreat when the train arrives, after giving Laura's shoulder a tender, barely perceptible squeeze. Laura is visibly upset. There's a silly flirtation going on between jovial Cockney Stanley Holloway and refreshment room lady Joyce Carey. Outside, the train station is dark and almost scary, in a way bordering on noir — it was photographed this time not by Neame, but by Robert Krasker (who later, unforgettably, shot and lit, and tilted, Reed's and Graham Green's film noir classic  The Third Man).  And in that darkness and under the shriek and wail of noise of the trains and the sudden surge of Rachmaninoff's Piano Concerto No. 2 on the soundtrack, she recalls what happened to them, before…
…How they met just recently, how they fell in love oh so discreetly, how they seemed the ideal couple, simpatico down to their hearts, though she looks so sweet and he looks a little cruel. But they're the perfect lady and perfect gentleman, even as they encounter each other briefly, as they meet in the station every week for a brief while, when she leaves her husband to go ot the city, and they cross paths, for a brief interlude. A brief happiness. Soon, of course, a deadline approaches (Alec may be leaving for service overseas), and he tries to open up their passion. He gets the key to an apartment belonging to his too-knowing friend (Valentine Dyall), but it doesn't work and soon, a week later, he'll be going away… And they'll never, never meet again, except maybe by chance, when they're old and it's too late, and God, how they love each other. (Rachmaninoff rises and fills the screen.)
And now we're at the beginning of the film again, the busybody, the flirtation, the train whistle, the goodbye, the tender squeeze, the train pulling away. This is what lost love is — the love that seems perfect, but can't be requited, that seems inevitable but happens at the wrong time, to the right people, and the train departs and it's gone, gone….
Gone.
Billy Wilder said that it was the scene in Brief Encounter of the friend's apartment and the passed key that inspired him to co-write and direct another film masterpiece The Apartment — and even though Wilder, that famous movie "cynic," mocked Rachmaninoff in The Seven Year Itch, you know that he was probably misty a bit at Coward and Lean's last train scene too. Celia Johnson. Trevor Howard. Their brief encounter. If you don't feel something for them, you deserve to be left at a train station (or an airport) yourself.
The movie comes from a Coward play that Coward and the little darlings adapted, called "Still Life." I haven't read the play, butI don't like the picture's added salute-to-marriage-and-good-old-Fred ending, at Laura's home. But that's the price you pay for dodging the censors, despite having made one of the greatest advertisements for adultery in film history. So we get, instead of a burst of sensuality, the pathos of proprieties. Sacrificing your great love because the rules of good conduct demand it. In real life, Coward didn't believe it. Lean didn't believe it. (His revenge was Doctor Zhivago.) But Laura and Dr. Alec did. And so, for a moment, and for that special eternity that film classics can bring to a moment, we believe it too.
6. The Train Departs
      The not-too-brief encounter between Noel Coward and his Little Darlings (and David Lean) ended too. On the highest possible note. Powell and Pressburger may have lasted longer as a team and even longer as a friendship, but both their careers waned after they separated in the '50s, and they often seemed lost without each other. By contrast, Lean and Coward remained popular and world-famous in their separate careers, and became and remained legends (as did, retrospectively, The Archers) for all their lives.
Their friendship? Who knows? One can say definitively that they were good for each other (much more than that really) and that Lean remained a great filmmaker and Coward a peerless popular playwright and performer — and that In Which We Serve is still a great, moving film of British martial sacrifice and glory, This Happy Breed a marvelous tribute to British working-class families, Blithe Spirit a matchlessly nasty and sophisticated spook comedy (with a nonpareil Arcati turn by Rutherford); and that Brief Encounter, drenched in Rachmaninoff and fond regret, is one of the screen's all-time classics of love unexpected, love thwarted, and of trains departing:  a "Romeo and Juliet" for the middle-aged bourgeoisie — without tragedy, but not without tears.
Not only does the Coward-Lean quartet, especially in this splendid Criterion edition, give us a rich, multi-faceted picture of those years of a dying but lively empire and their prelude, it provides a feast of fine acting — some, though maybe not quite enough, by Noel Coward — and a cornucopia of the cinematic bravura and beauty and brilliance that became the hallmarks of David Lean.
So God save them all. God save Anthony Havelock-Allan and Ronald Neame and the peaks of Cineguild. God save John Mills, a brave little chap. God save Bernard Miles, as solid as the earth. God save Dickie Attenborough, shaking with fear. (We're all afraid, Dickie, we're all afraid.) God save Robert Newton, and the wagons he falls off. God save Stanley Holloway, 'cause he's all right. God save Kay Walsh, and when's she coming home? God save Alison Legatt, nutty old dame. God save Rex Harrison and his sense of humor. God save Margaret Rutherford, flying to the séance on her bicycle. God save Joyce Carey, who's oh so refined. God save Trevor Howard, and his cruel face, and his kind voice, and his broken heart. And God save Celia Johnson, dear sweet Celia, who broke all of our hearts, too. May she catch the train someday.
Most of all, God save Sir Noel Coward and Sir David Lean — two knights of film and stage art who came from the British middle class, and who rose to the heights, separately and together. One can say, perfectly justified, that those two gentlemen of contrasting personalities and complementary talents could not have made those four wonderful films without each other. And, as moviegoers, we're infinitely richer and happier — and more blessed, dammit — that they did.
(Lean-Coward history courtesy of the Criterion booklet essays by Ian Christie, Terrence Rafferty, Farran Smith Nehme, Geoffrey O'Brien and Kevin Brownlow.)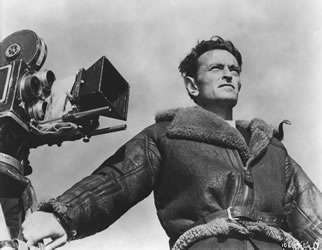 The Criterion box set includes: In Which We Serve (U.K.: Noel Coward/David Lean, 1942) Four Stars. Sc: Coward.
This Happy Breed (U.K.: Lean, 1944) Three and a Half Stars. Sc: Lean, Ronald Neame & Anthony Havelock-Allan, from the play by Coward.
Blithe Spirit (U.K.: Lean, 1945) Three Stars. Sc: Lean, Neame & Havelock-Allan, from the play "Blithe Spirit" by Coward.
Brief Encounter (U.K.: Lean, 1945) Four Stars. Sc: Lean, Neame, Havelock-Allan, from the play "Still Life" by Coward.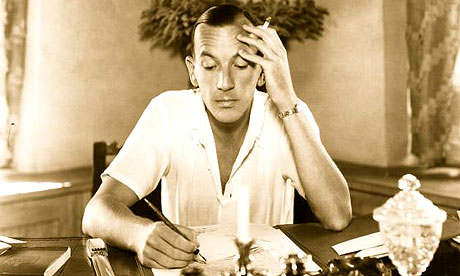 Extras: High-definition digital transfers of the BFI National Archive's 2008 restorations of all four films; Commentary on Brief Encounter by Bruce Eder; Interviews on all four films with Coward scholar Barry Day; Interview with Ronald Neame; 1971 TV documentary David Lean: A Self Portrait; Short documentaries on the making of In Which We Serve and Brief Encounter; 1992 episode of British TV's "The Southbank Show" on Noel Coward; Audio recording of 1969 conversation between Richard Attenborough and Noel Coward, on stage at London's National Film Theatre; Trailers; Booklet with essays on the Coward-Lean collaboration and on all four films, by Ian Christie, Terrence Rafferty, Farran Smith Nehme, Geoffrey O'Brien and Kevin Brownlow.